ResponseQue is a simple customer service tool designed to save you time and money...
What if you could eliminate the need to answer up to 81% of your incoming questions while still ensuring 100% of the questions being asked get answered quickly and accurately?
How much time would you save?
What if each time you answered a question about your product or service you simultaneously trained your system how to answer future questions on your behalf?
How much money would you save?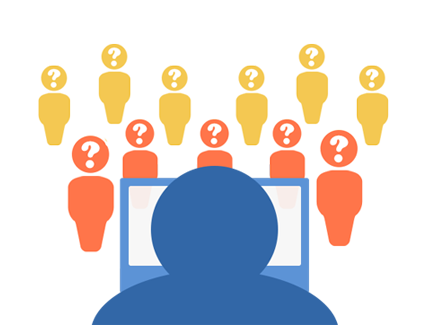 ResponseQue is more than a communication tool...
It eliminates the need for you to sift through spam messages
It eliminates the need to answer frequently asked questions
It eliminates the frustration of managing and constantly training large support teams
It saves you time
It saves you frustration
And it saves your company money
Sign Up and start running your customer service efficiently
Best of all your customers always get fast accurate answers where and when they have questions. See, every question requires an answer, but every answer doesn't require a person.
Here is how it works...
When someone on your website has a question they simply click a button and ask it
Your customers are never forced read through articles to search for an answer
All questions asked get a response
If the system knows the answer it replies to your customer automatically
If the system doesn't know the answer it passes it on to you and your team to answer
When you reply to a question the system learns and grows smarter
The more you use the system the smarter and more helpful it gets
Your customers get fast answers
Your customers get accurate answers
And you save time and money and frustration

Here's how ResponseQue compares...
If you stack us against other online customer service options you'll see why we're the best...
| | Email Support | Ticketing Software | Help Desk Software | Live Chat Software | ResponseQue |
| --- | --- | --- | --- | --- | --- |
| Customer gets a quick answer to their question | MAYBE | | | | |
| Customers can rate responses | | | | | |
| You can run analytics and reports on your customer service integrations | | | | | |
| Understands what page a question is being asked from | | | | | |
| Available on every page of your website | | | | | |
| Generates dynamic FAQ's pages for your website | | | | | |
| Automatically routes messages to the appropriate team member | | | | | |
| Allows you to create custom input forms on the fly | | | | | |
| Effectively blocks spam | | | | | |
| Automatically answers your frequently asked questions | | | | | |
| When you answer a question it learns how to respond to future similar questions | | | | | |
| Get's smarter and more helpful overtime | | | | | |
Sign Up and automate your customer service today.
ResponseQue is easy to setup...
It only takes a few minutes to setup and deploy ResponseQue on your website.
Here's how...
Click the SIGN UP button and select which ResponseQue accounts works for you.
Fill out the order form, define your login and click 'Create Account' button to continue.
In a few seconds your ResponseQue app will deploy and you will be prompted to login.
Login and take our virtual tour of your new app to get familiar with the interface.
Our welcome tour walks you through how to...

Seamlessly integrate ResponseQue support into your website
Answer an incoming question
Answer a private question
How to import Q&A's into the system to jump start the training process
And how to setup logins for your team
We made it easy and simple for you to provide great support to your customers while saving loads of time.
Sign Up and give us a try now and see how it works for your business.